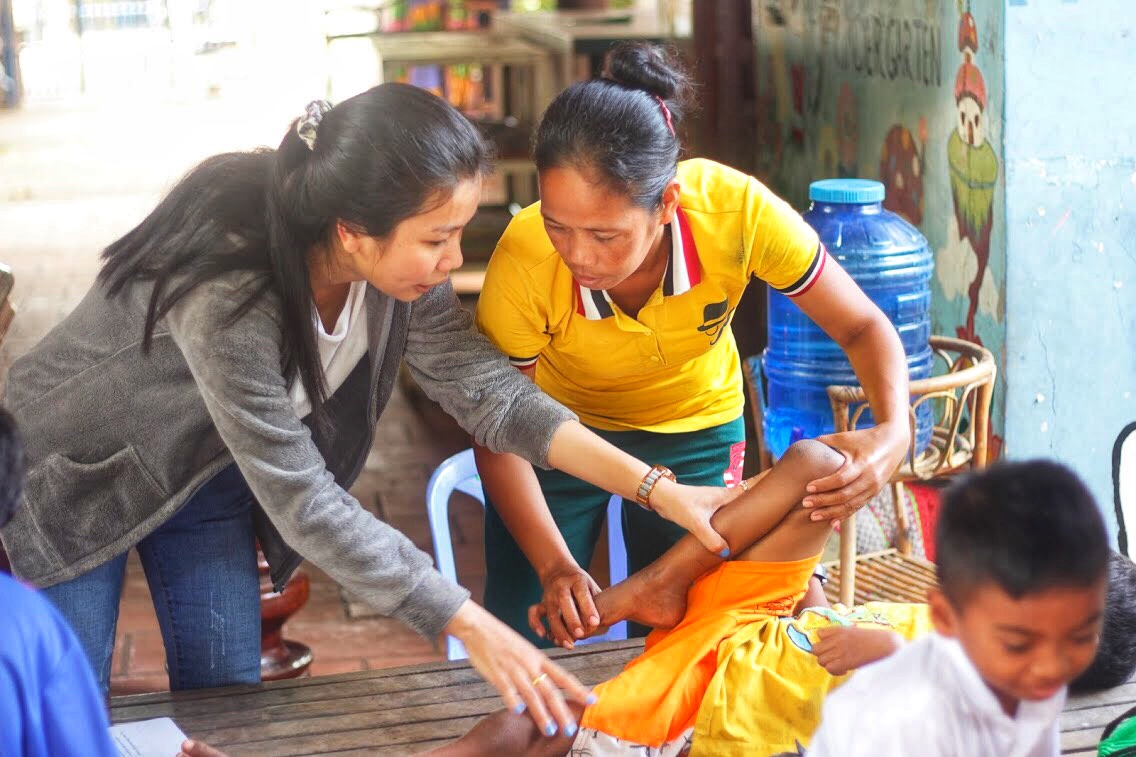 Making dreams come true for children with disabilities
Welcome to the first of our 'The Kind Link' series article, aiming to bring a piece of positive news in such uncertain times by talking to organisations whose work creates a positive impact. We will be exploring the challenges, motivations and goals of such organisations with consideration to the Covid-19 situation. Non-profits are a key part of our societies as they are the link between those who want to help and those who need to be helped. It is important to appreciate their work and support their causes to achieve a better world for all of us.
Working overseas with children with disabilities in institutions, Jodie experienced the hardships faced by the local communities. The people trying to take care of the children with disabilities were often overwhelmed and undertrained. Moreover, children were often separated from their families. This had an effect on their mental wellbeing and confidence in terms of their therapy and education. The statistics show that there are an estimated 2.7 million children with disabilities in institutions in developing countries. It is important to note that the estimate is expected to be an underestimate. These are the main reasons for the founding of the charity EmbraceAbility. The organization aims to keep the children from being separated from their families and provide them with tools to best support them. The tools include access to therapy, education and the support the charity offers to the families. The founding principles of the charity are that children should be able to stay at home and that the families should be supported in doing so.
All children should have an equal opportunity and it is important that everyone strives to ensure that children with disabilities are given the best chances of making their dreams come true. EmbraceAbility's ultimate goal is to have reached the point where all children have an equal opportunity in realizing their dreams.
Since 2017, EmbraceAbility has launched an outreach program on Koh Dach Island (also known as Silk Island). It provides children with access to therapy and education, as well as their parents. Through therapy, the charity aims to empower children with the aim of helping them live independently and with dignity. They are also encouraged to participate in play-based activities and sports, such as Jiu-jitsu lessons. Unfortunately, these activities have been cancelled due to Covid-19.
The importance of the program is immeasurable. Through the activities provided and supported by the charity, the lives of children are being changed. Jodie shares that two years ago she met a child of the age of 3 ½ years old, who could not talk nor walk. Within two years, thanks to all the good work done by the charity, the child can now talk and even run.
Other effects of COVID have been increased levels of poverty and job losses. A poor availability to healthcare is another major issue faced by the local community. Due to the crisis and the limitations, the focus of doing good has had to change. The charity has been a first responder on the island. Now, EmbraceAbility supports the local communities by making sure all the beneficiaries have access to food, safe to drink water and support to women, by providing menstrual products, for example. Cash allowance is also given to families so that they can purchase products that support the local economy, in order to be able to help as many people as possible.
Not only have the issues changed during the crisis, but also the way people work. For Jodie, late nights and lots of coffee have become the norm, in order to keep up with the workload. They've had to ensure they have the supplies and most up-to-date information to support the locals. Spreading information is a challenge among some communities, due to high numbers of people who cannot read and lack education. 
Adjusting to this situation is made more difficult by the lower amount of funds available to charities. The issue of funding is another thing that EmbraceAbility and many more charities have had to adjust to.
However, despite all the hardships, through hard work and commitment adapting to the new situation is possible. While offline fundraisers and impossible to do, online ones have become a popular source of income. The downside to this type of fundraising is that it has become very competitive and very little reaches overseas charities.
EmbraceAbility have taken a slightly different approach to how they raise money. They've organised online craft events, they sell craft parcels and they also sell spices from Cambodia with recipes for traditional local dishes. During this period they have also started a book club celebrating female Cambodian authors. They had also planned to open a daycare centre, but due to the circumstances, it has to be postponed. What is most unfortunate is that during the crisis having such a centre would greatly benefit the families, who are struggling to keep their job and take care of their children.
Through digitalization online communities have been brought closer together. Events have been organized with people from across the world so that the children can interact with people from different cultures. The positive thing to come out of the crisis is the sense of togetherness that has arisen in people. It has also pushed charities towards a much-needed shift to operating online. The results of this are more people reading blog posts and watching the videos put out by the charity. It is a great opportunity to unite people and to learn from each other. Through platforms such as KindLink, this has been made possible. It has helped the charity reach people across the globe and allow them to engage in fundraising initiatives.
Please follow and like us: