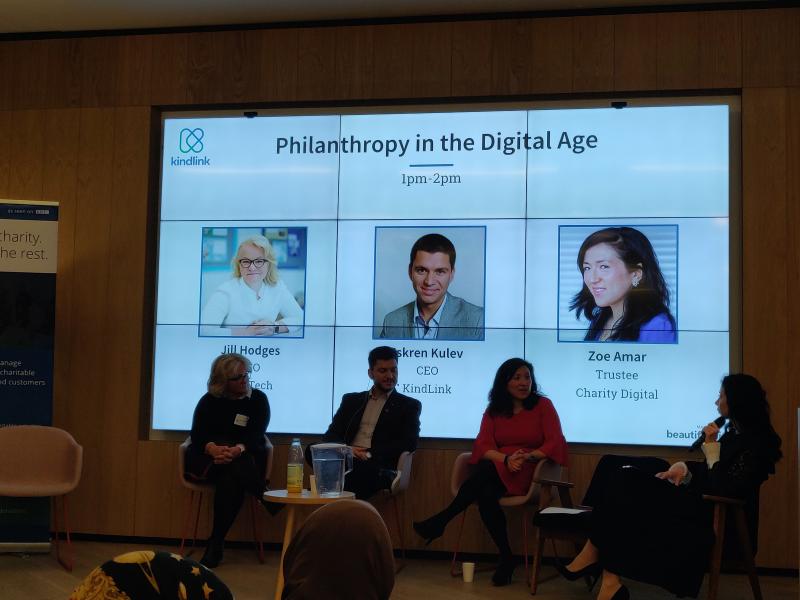 The Charity Digital Presence: Increase Transparency And Receive More Support
aThe charity digital presence has been an ongoing topic for the philanthropy sector over the last few years. Nonprofits need to develop a greater digital presence to ensure greater transparency and attract more support from corporates, organisations and individuals. Find below some insights shared at our Annual KindLink Conference: How Social Responsibility Will Define The New Decade on the topic of technology and transparency in philanthropy.
About Transparency
"Statistics show 70% of individual donors want to know what's happening to their donation", says Iskren Kulev, CEO of KindLink. The lack of transparency is the number one reason why people do not contribute to the nonprofit sector. KindLink was initially created to overcome the issue of transparency using technology. 
Nowadays, the world is becoming more and more transparent with the help of digital technologies, such as blockchain. Blockchain makes transparency possible in many sectors as it enables us to track money/assets no matter whether it is in finance or in real estate. "We wanted to do something similar for the philanthropy sector", says Kulev. The dream is to engage every stakeholder, corporate employee or individual, bring them together and form an open community where everybody knows what the other parties are doing. Five years from now, we're imagining a world where recruiters will be going through the profile of the person they are recruiting, on KindLink. They would be looking at the volunteering activity of the person, whether they are recycling or supporting their local community. "You have a public profile that shows the good things you're doing as an individual, as a company and as a charity", says Kulev "We are 60-70% there."
From Pen and Paper to a full Charity Digital Presence
"When we started KindLink five years ago, we were working with charities running their operations with pen and paper", says Kulev. We live in an increasingly digitised world yet the philanthropy sector is falling behind as many charities do not have a digital presence. Zoe Amar, a Charity Digital trustee, and Iskren Kulev talk about the methods charities can use to engage with their clients in the digital realm and the benefits this will bring to their organisations.
"The digital sector moves with its clients, which means that the clients are demanding more sophisticated solutions, cheaper solutions to run their operations", says Kulev. Over the last four or five years, charities have been adopting more and more digital technologies which have made them more efficient than before. The nonprofit sector has developed a lot but still not enough to catch up with the business sector. In 2010, outsourcing and CRM were still new concepts in business but they are only starting to reach the nonprofit sector. "The charity sector must catch up to the business sector", says Kulev.
Being able to track every single aspect of the charity's work is important not only because it helps charities raise funds more efficiently. Charities can also track their donors through a CRM system, their contribution through a financial management system. Donors can also follow the charity recording every single charitable project and receiving impact updates with pictures, videos, stories, and locations. This form of technology not only creates a stronger bond between donors and charities, but it also creates an environment where philanthropic organisations can be held accountable for their actions. Ultimately, it creates more transparency. 
Talk to your audience
Communicating with your audience is one of the key steps to increase transparency. "Own your failures as much as your successes, and do not be scared to communicate them", says Amar. She talks about the importance of finding out what supporters want before charities adopt digital skills. 
A brilliant example of effective communication comes from CLIC Sargent, a charity helping young people suffering from cancer. CLIC Sargent' s Annual Report published the things that have worked for them and the things that haven't worked so well, says Amar. CLIC Sargent received awards for the novel way in which they engaged with their supporters and reported their impact. 
"The first thing is to talk to your users to really understand who your audience is, what their needs are. You can start doing that by looking at free tools for your website, such as analytics, or by looking at the data from your interactions on social media", Amar explained. Prioritising your users' experiences is important if increasing transparency is the aim. The next step is getting your digital skills to facilitate the desired user experience. After that, "just keep testing and learning, testing and trying new things and see what works for your audience", she says. 
Breaching the digital skills gap
"The earlier we start with digital skills, the better", says Jill Hodges from Fire Tech Camps. Digital skills – which support a successful charity digital presence – are a new type of literacy. It is hard to thrive without these skills, no matter what you are doing for a living, and education plays a vital role in ensuring everyone can handle themselves in our digital world.  
"There are a bunch of problems around digital skills, one is the digital divide, where some kids have access to it and some don't, the other problem is a sort of a macro problem, for corporates, for the country, around having enough people who have digital skills to do all the things we need to do in the future economy", says Hodges. At Fire Tech Camps, children as young as six years old explore the possibilities of technology. "I think it's really important to give them the experience, the confidence, to really show them that technology is fun", Hodges added. At the moment, the educational system is not ready to teach these skills to children from all backgrounds, despite there being an increasing call for more diversity in all sectors of society. 
"As a woman working in the tech world for nonprofits, I really think the issues around diversity and skills are linked", says Amar. Getting the full perspective of thinking – different backgrounds, different ages, different genders – onto charity boards and the charity workforce is how we can increase digital presence, breach the skills gap and attract new talent.
Please follow and like us: