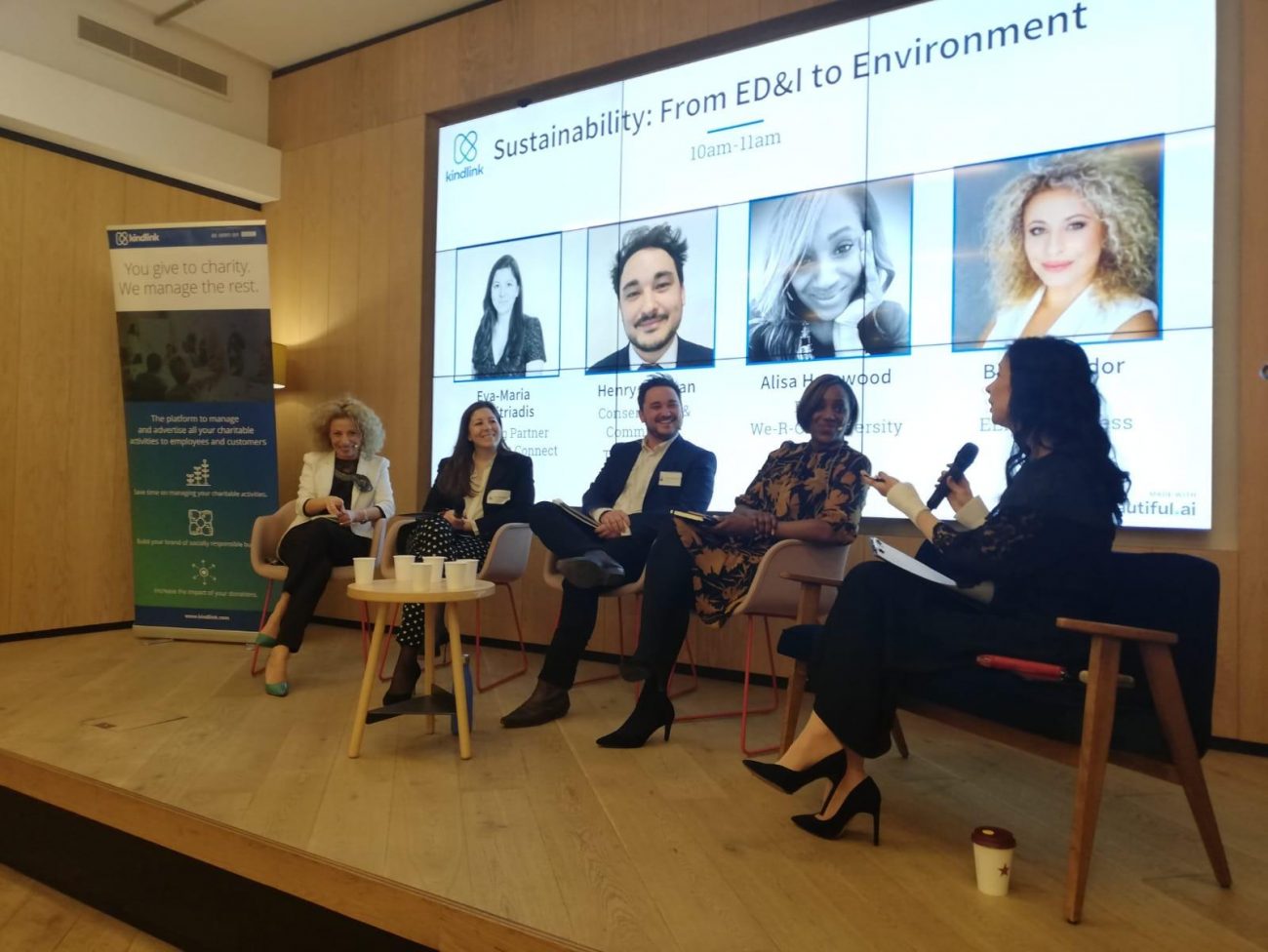 Workplace Sustainability: Being rich in genders, age, ethnicities, disabilities will bring ideas, innovation, change 
Workplace sustainability comes in many shapes and sizes but should be achievable across the board, from ED&I practices to the environment. Here are some insights shared at our Annual KindLink Conference: How Social Responsibility Will Define The New Decade about sustainability.
How to Change Your Culture
"You need to be brave enough", says Alisa Harewood from We-R-One Diversity Management Consultancy, "Are you going to invest in it?" Harewood doesn't only talk about financially investing in changing your company's culture but personally involving yourself in it. She discusses workplace sustainability in ED&I and its long-term benefits. 
"This is something that has to be driven by CEOs to be impactful," says Harewood on how companies can understand the long-term benefits of culture change. A good place to start is by looking at supportive data from companies that have made investments towards a more inclusive organisation 10 years ago and have seen the innovation change their culture. Pairing organisations that have done great work in diversifying their teams with organisations that are more reluctant to do it and mentoring them would be helpful. From a financial point of view, there are some things that you can do that are cost-effective through recruitment, by allowing a budget to support some days that raise awareness of ED&I issues, having networks that are going to support the LGBTQ community or by helping people champion for disability equality. But one day is not enough – change has to build up to every day.
Another element to consider is looking at where a company would like to be as an organisation – what new emerging industries or diversification strategies they already have in place, where they want to be seen in the landscape of being an employer of choice in 5, 6 or 10 years. Organisations are going to be seen as companies for which this generation – the millennial generation, the Z generation – want to work for. Long gone are the days where people who went to university are looking for one career that's going to last them 20-30 years. They will naturally transition on to other companies – many times towards those who put workplace sustainability at the core of what they do. "Having an organisation which is rich in genders, age, ethnicities, disabilities, is going to bring ideas, innovation, change," Harewood added.
Getting Everyone to Buy in
Investments play a big role in sustainability whether environmental, educational or of other types. When done responsibly and efficiently, investments can make a huge difference in the lives of many people. Henry Badman from Thames Water, and Eva-Maria Dimitriadis, from The Conduit Connect, talk about investing in the communities your company identifies most with. 
Thames Water has a significant, ongoing community investment program. "In the last five years, we supported over 120 different groups. They have to have a link to the environment or rivers or public health or education. That would be anything from a large river restoration project or setting up a new club. In the last five years, £6.5 million went into that and £2.5 million into our trust fund. That is more focused on getting people out of water poverty. Through that, we fund cities and advice staff, we also get small grants for things like new boilers", Henry Badman says. The educational programmes of Thames Water aspire to reach every school child in their area (around 2.3 million children) through their 8 education centres and an online database. 
Small charities can also access these resources. "There's an application process through our website. The small grants run quarterly and applications are reviewed by our charity committee. We review them once a quarter and if we can fund the full amount we do." Badman says that sometimes they offer voluntary time or help instead of a full amount of money, making the grant last longer and so helping more people. Deciding how to invest money into the community changes just as the needs of the community change. Thames Water decided to offer larger sums of money to more strategic projects but create a middle fund that allows them to support smaller enterprises too. 
At The Conduit, the focus is on ensuring sustainability in everything the company does. "We have a list of historical buildings where the renovation team took every measure to ensure that we were putting sustainability at the core of every decision. We have a living wall on the first floor of our bank space which is one of the longest green walls in London, providing natural air to everyone who's there. A lot of our decisions around hospitality have been sustainability-driven. We don't use table cloths because that has an impact when you have to wash them, so in our first year, we saved  140,000 litres of water by not having tablecloths. We don't use plastic bottles, of course, so we have no single-use plastic in our kitchen at all. In fact, by using bottled water which we filter ourselves, we saved 72,000 kg of plastic", Eva-Maria Dimitriadis says.
Taking responsibility for the difficult conversations
"People are unsure how to approach delicate conversations around race and culture because they're afraid of offending," says Alisa Harewood. Learning to better communicate with each other is a much-needed skill, especially in an era of internationalisation. As uncomfortable as difficult conversations may be, they are also an opportunity for development and growth, as well as achieving workplace sustainability. 
"I  think companies may be fearful about not getting it wrong", says Harewood. Fearing difficult conversations or shying away from them leaves communities emptier and poorer, despite a growing need for more diversity among executives. "The fear of getting involved means that they [the companies] do nothing at all"
But unless inclusivity is promoted at all levels, we still stand in a place where few steps are made towards promoting women in leadership roles or where few people work with ethnic minorities at the school level to show them that leadership is not unattainable. 
If there is limited or no support from the C suite or junior level for talking about sensitive topics, then the middle management has a responsibility to create a space where these conversations can take place. "If you're responsible for developing a team, if you're responsible for recruiting a department, then try to make that department as inclusive as it can be and have your teams learn from one another. Knowledge is really the key to moving people's mindsets forward. We have the ability to influence and impact change", says Harewood.  
If Women Reached Their Full Potential…
"The EU has an amendment to have 40% more women in management positions by 2030. But did you ask those women if they want to have that career? says Bianca Tudor from Elite Business Women. Gender inequality is still prevalent in many parts of the world and it is tempting to believe that simply placing more women in top leadership positions solves the problem. Bianca Tudor and Alisa Harewood address workplace sustainability and gender equality programmes. 
"There was a 2015 McKinsey study that said that if women were to reach their global potential, it would add $12 trillion to the world economy", says Harewood. "This is not only about putting women into leadership, this is about organisations looking at flexible working, companies being brave enough to look at middle or junior leadership positions instead of saying they need more women in executive leadership roles", she says. Tudor adds that equality is not about having more women in these roles only,but that equality is about equal access to education, empowering women to make their own choices and having the resources to do so.
Workplace Sustainability Starts With Education
"If we look at the numbers, women are paid 16% less, on average. If we talk about the education of young girls, in the poor families of, let's say, Africa or the Middle East, the boy gets to go to school, whereas the girl gets to stay at home because she has to tend to the family. So still, we have some issues with access to education. I think it's also important to look at the social stereotypes: if you are raised in a family with a brother, he will inevitably be brought up to push his opinion, to be tough. A girl will be brought up to be nice, not to get herself out there and not to be too shiny, to stay in her place. Later on, the same girl will go to a job interview and she will have to negotiate her salary. She will be nice, she will listen to others and accept what she's offered. So education starts within the family, the culture, the traditions", Tudor concluded.
(The KindLink Annual Conference was organised by KindLink, the technology platform supporting corporates in managing their CSR and sustainability initiatives, while offering nonprofits free software to ensure more transparency in the sector)
Please follow and like us: